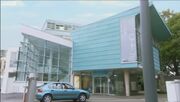 The City Hotel is where the Sparticles live for most of Series 1.
Information
Edit
In Episode 1, Sadiq leads his gang to the City Hotel, for shelter. When the tribe splits up, Tia, Jeffrey, Liam and Frankie live on there, growing food in Jeffrey's garden. Tia also cooks the food.
When some girls move into the hotel, The Ranchers travel to the Sparticle Project to meet The Questers.
Ad blocker interference detected!
Wikia is a free-to-use site that makes money from advertising. We have a modified experience for viewers using ad blockers

Wikia is not accessible if you've made further modifications. Remove the custom ad blocker rule(s) and the page will load as expected.